Naapbooks Limited to open it's IPO on 1st September 2021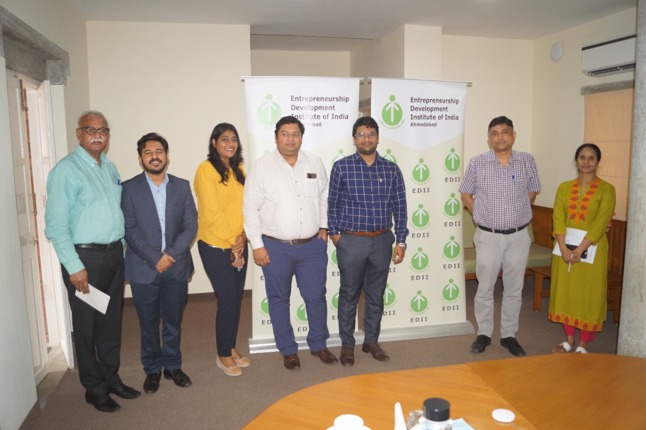 The journey of a startup takes another leap with IPO, that will give wings to many other startups in this ecosystem. 
Naapbooks (NBL), today announced at a virtual press conference jointly held with its Incubator Cradle at the campus of EDII the date of its IPO opening which is 1st September 2021. After receiving application, the IPO will be listed at BSE Startup exchange on 15 September 2021. 
The IPO comes at a price band of ₹71 to ₹74 with a lot size of 1600 shares, planning to raise a total of ₹3.99 crores at the Face Value of ₹10. At SME or Startup exchanges, shares are allotted and can be traded in the multiples of lot size. 
The company plans to utilise the net proceeds of the issue for financing its expansion activities. This majorly includes work capital that is required to run the business and build better products. Also, the object of the IPO is to fund the purchase of equipment and to create branding and marketing of its upcoming products. 
Speaking about the development, Dr. Sunil Shukla, Director General, EDII, said, "The current millennium is defined by innovation and new ideas. The need is to recognise them, nurture them and provide them with a conducive environment. At EDII, we have endeavored to train entrepreneurs to become self-reliant and perceptive of their business environment. It gives us immense pleasure to see one of your startups chart a remarkable journey of filing an IPO. Naapbooks Limited is one of our first few incubatees and an inspiration for many other enterprises in the country. This in itself is an acknowledgment for us as an enabler and mentor." 
Speaking about their journey, Ashish Jain, Founder of Naapbooks Limited, said, "When we started 4 years ago, we had our knowledge and skillset to guide us. We are fortunate to have received guidance from CrAdLE and EDII at an early stage which gave us a sound understanding of scaling up. Today, we have made a niche for ourselves in the cloud accounting automation field and arguably are one of the early players in this field. The IPO is a result of many sleepless nights and the sheer hard work of the team to make a big move towards growth and expansion. Funds from the IPO will help us to ideate, innovate and develop better products and services. We don't believe in spending too much just to acquire a customer base and that is the reason our company has remained profitable since incorporation."
About the company 
Incorporated and founded by Ashish Jain, Abhishek Jain, and Yaman Saluja in 2017, Naapbooks started with its cloud-based accounting application that provided automated processes as well as secured data management. Today, it has successfully delivered on the expectations of its clients by completing projects like that of E-Auction, Aadhar based Payment Solution, E-Voting, Order Management Solution. Also, it is developing various applications to ease the business processes for SMEs starting with Visitor Management (VizMan) and Supply Chain Management. 
Swati Singh joined the startup in 2018 and since has been a strong pillar to its foundation. Naapbooks is the first one from the Cradle (EDII) and one of the early movers from Gujarat to achieve this feat. To scale up and gain more industry exposure, the company got incubated in CrAdLE EDII in 2017. With close to 5 years in the market, the startup has a presence in more than 5 Indian states, 500+clients and has successfully completed more than 100+ projects. Moreover, Naapbooks is a CMMI Level 3 company and certified with ISO 9001. 
Naapbooks Limited IPO Details:
The reason behind NBL IPO is brand recognition and to market products. Unlike other startups we don't believe in burning cash, we believe in profitability and stability.
Issue Opens: 01-Sep-2021
Issue Closes: 06-Sep-2021
Total Shares : 5,39,200
Price Band: Rs 71-74
IPO Size  : Rs 3.99 Cr
Lot Size: 1600 Share
Retail Quota: 47.18%
Face Value: Rs 10
For Information & other Media Related Queries, please contact
Name: Yaman Saluja
Email: yaman@naapbooks.com
Phone: 9016323230