All you want to know about UPI PayNow Integration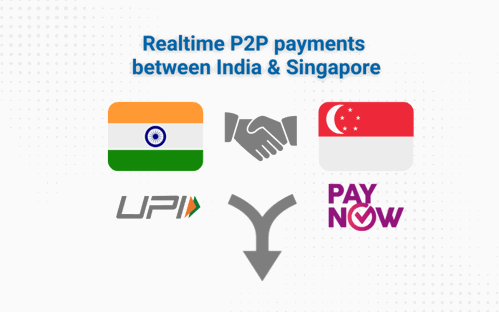 In a world dominated by digital payments, the integration of India's UPI with Singapore's PayNow is a major milestone in cross-border payments. Currently, transactions between the two nations amounts to over USD 1 billion each year. The two payment systems, while differing in their core structures and functional models, partake numerous similarities.
Differences between UPI and PayNow
Let's evaluate the similarities and differences of UPI and PayNow. It will help us to gain a better understanding of their integration and its implications.
UPI (Unified Payments Interface) – India
UPI is a mobile-based payment system developed by National Payments Corporation of India (NPCI). It aims to facilitate instant money transfer between bank accounts. After its launch in 2016, UPI has become one of the most widely used payment systems in India.
UPI uses a unique identifier similar as a virtual address or mobile phone number to facilitate fund transfer. As per 2022 data by NPCI, UPI soared 74 billion transactions, amounting to Rupees 126 trillion.
PayNow – Singapore
Singapore's PayNow is a Peer- to- Peer (P2P) fund transfer system developed by the Monetary Authority of Singapore (MAS).  With the vision for instant and secure money transfer within Singapore, PayNow was launched in the year 2017. It enables transfer of funds from one bank account to another, using a bank account or a mobile number. 
Integration of UPI and PayNow
The integration of UPI and PayNow will allow customers of both systems to make transnational transactions with ease. This will open up new avenues for businesses in India and Singapore to conduct flawless transactions. In future, it will enable payments to merchants in Singapore and vice versa, without the need for intermediaries. 
The integration will also offer enhanced security and convenience for customers. Both payment systems are powered by sophisticated encryption technology and valid authentications.
As per press release of RBI on Sep 14, 2021, the linkage was targeted for operationalisation by July 2022 but it has taken more than 6 months of delay. This initiative is also in line with RBI's vision of reviewing corridors and charges for inbound cross-border remittances outlined in the Payment Systems Vision Document 2019- 2021.
UPI-PayNow Facts
Currently, eight Indian banks including ICICI Bank, Indian Bank, Indian Overseas Bank, and State Bank of India are allowed to send and receive remittances. The entities from Singapore enabled for the UPI-PayNow linkage and their VPAs are DBS Bank Singapore and Liquid Group (Non-Bank Financial Institution).  
As per the RBI, there is a daily transaction limit of ₹60,000 / day (equivalent to SGD 1,000 approx.) for remittance through the UPI-PayNow linkage. Citizens in each nation can use their local payments systems to send money to those in the foreign land in "real-time."
The RBI has cleared that it allows these transactions for purposes of "Maintenance of Relatives Abroad" & "Gift" only, therefore refuting to use it for the benefit of business transactions. With the progression of time, the UPI-PayNow linkage expects to include more banks and financial institutions from India and Singapore.
What's next after UPI-PayNow Integration
India already has a signed memorandum of understanding (MoUs) with 13 countries that want to adopt UPI for digital payments. This linkage with Singapore is going to be game-changing for FinTech companies across the world.
In conclusion, the integration of UPI and PayNow is a major step forward in the world of cross-border payments. It promises to offer enhanced security, convenience, and cost-effectiveness for people in both India and Singapore. 
However, there are still challenges, such as differences in transaction limits, currency conversion fees, and encryption protocols. Nevertheless, the integration of UPI and PayNow is a positive development and will pave the way for further advances in digital payments.
Rahul Mehta
Content Specialist Naapbooks