Naapbooks Launches VizMan (Visitor Management) for Offices, Retail Shops & Factories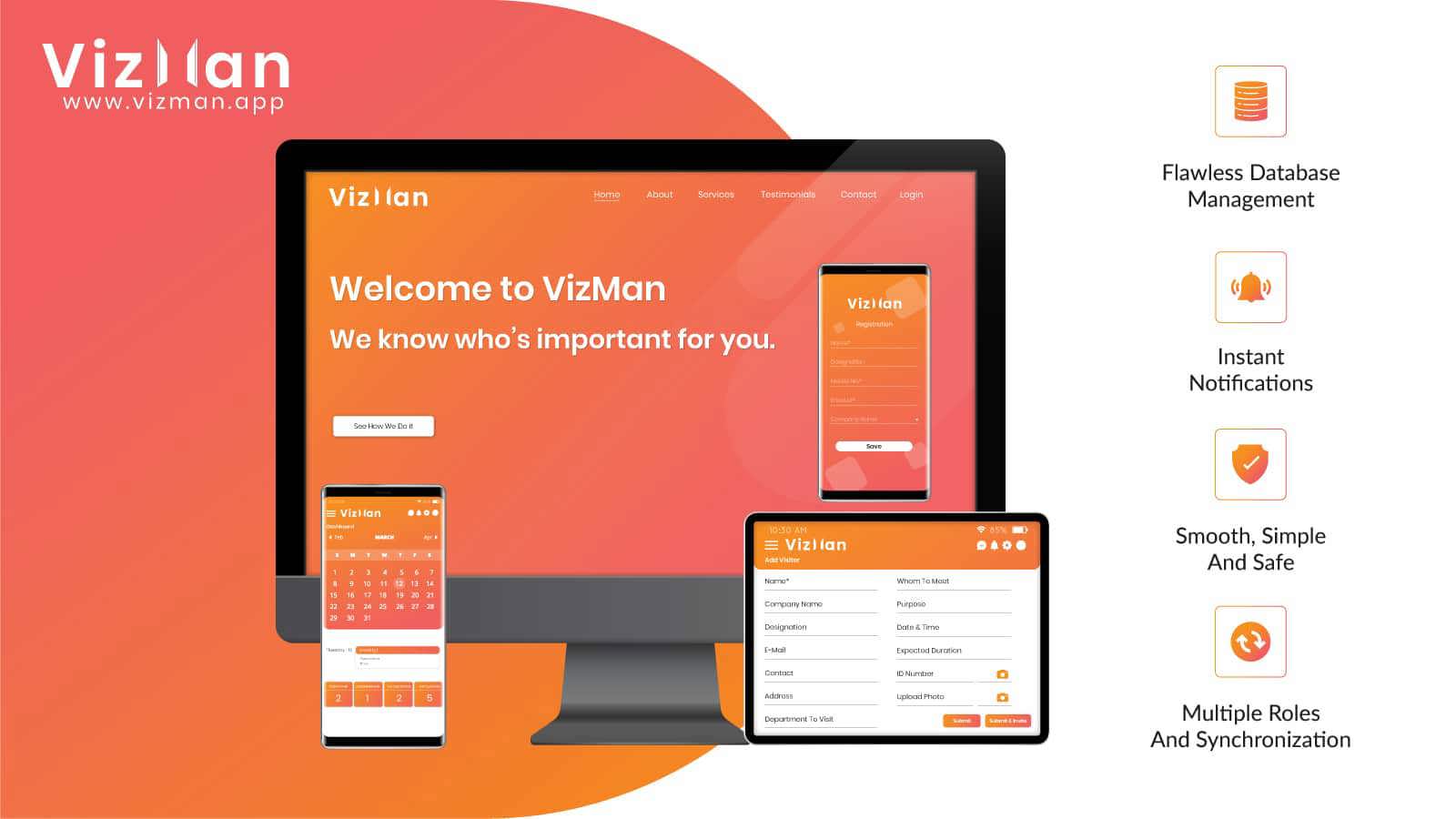 Ahmedabad | 12-01-2021
Covid-19 has hit hard to all the industries across the globe. Some have easy choices to be able to work from home while most have jobs that need us to be physically present or to meet our customers physically. Even though the vaccination is getting started yet keeping safe ensuring social distancing is key to be guarded.   Keeping in view of all these factors, Naapbooks (www.naapbooks.com) has come up with its new product, VizMan - Visitor Management System.
VizMan is a unique way to replace old Gatekeeper registers which would track your visitors, ensuring there is a touchless entry with all data being safely handled and managed.  VizMan has an option of 4 types of users, Admin being the subscriber of the application, creates other users and manages the settings as per organisational policy. Gatekeepers can manage the in-out processes of the visitors and can cross-check their details in the database. Receptionist can manage all the meetings and also can reschedule them if needed. She can all invite visitors to the premises on behalf of an employee. Employees can invite visitors and can schedule and reschedule the meetings.
Along with Visitor entry and exit, VizMan has features to manage all the meetings with the pre-invite module. Every visitor gets a unique code every time it intends to enter the premises. The application has included the Gate Pass functionality keeping in view the Businesses that have a strict policy for anything that comes along or goes with visitors. With every entry in the premise, you have the option to input the Temperature of Visitor or other fields related to your organisation. The temperature module is also linked to the Employee Master where you can daily check the temperature and record in the database. 
Key Features of VizMan - Visitor Management System 
Touchless Visitor Entry During this Covid imminent secure your premises with touchless visitor's entry or exit. A gate pass is generated through the portal you can check- in with QR-code or E-pass.
Secured Digital Register Visitor Management System is a secure and user-friendly database manager that records, filters, tracks the visitors to your organization.
Smooth, Simple and Safe It digitizes the process right from the main gate to reception, meeting arena to gate pass. It also assists you to see relevant visitors' information on the system before the meeting.
Instant Notifications On receiving the instant notification, the logged-in an employee can schedule, postpone or cancel the meeting request right away.
Multiple Roles and Synchronization Vizman manages a sleek end-to-end flow of the visit that makes your workplace look smart and effortless.
VizMan is available as a web application on vizman.app or can be downloaded on the mobile application from PlayStore (Android) and AppStore (iOS). The pricing plans have been kept low keeping in mind the need of the market and emergence of such a system.  There is a 7 days Free Trial, to begin with, later one can choose from plans based on the number of employees and visitors per month.
Commenting on the news Ashish Jain, CEO of Naapbooks said that "Covid-19 has created a long-lasting impact on how we meet and greet. While everywhere things are getting digital, this space of Visitor Management is still paper-based. From Gatekeeper to Receptionist, all are using Notebooks or Registers to input Visitor Details and yet no one can track when it is needed. VizMan will change the way we know our Visitors." Naapbooks Private Limited is now Public Limited. In this world of digitalization where every single system is digitalized, Naapbooks is known for its niche in the IT domain. We believe in delivering made-in-India solutions following vocal for local approach. About Naapbooks Limited:
Naapbooks is a CMMI3 level and ISO 9001:2015 certified IT startup registered with Startup India vide DIPP4092. As an acclaimed IT company, it contributes in optimising and strengthening the businesses around the globe. It ensures the customers get a superior cognizance of their business and requirements. It has successfully delivered on the expectations of its clients by completing the projects like that of E-Auction, Cloud based Accounting System, Aadhar based Payment Solution, E-Voting, Supply Chain, and Order Management System. Naapbooks continues to toil to stay ahead and keep updating the finesse and vividness of our offerings. 
For Information Media Related Queries: 
Name:  Swati Singh 
Email: media@naapbooks.com