Press Release : It's now Naapbooks Limited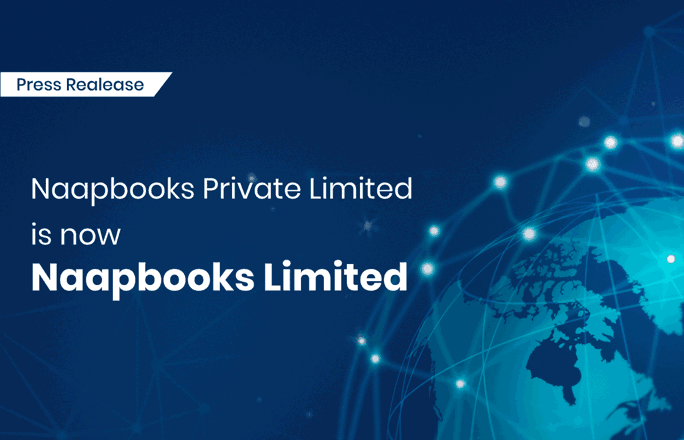 Ahmedabad, India | 08 January 2021 Naapbooks Private Limited having CIN U72900GJ2017PTC096975, has been converted in to a Public Limited under section 18 of Companies Act, 2013. The approval of the same from Registrar of Companies (RoC) - Ahmedabad came on 07 January 2021.  Now the company will be known as Naapbooks Limited.  Naapbooks Limited was incorporated on 20 April 2017 with an aim to bring Fintech Applications to cater the needs of Small & Medium Enterprises. It had received DIPP (Department for Industrial Policy and Promotion) Start-up Certificate on 27-06-2017 and later it got incubation at Centre for Advancing and Launching Enterprises (CrAdLE) on 03 August 2017.  Mr. Ashish Jain, CEO of the company said, "I see this as another step of the growth ladder of our start-up. This pandemic has been harsh on mankind and technology has played a crucial role in survival. In such scenarios, I believe IT can be a rescue to the world. We have been planning to implement connected systems not just constrained to Web and Mobile Devices but with everything around us. We shall be assisting Indian industries to move towards Industry 4.0 and make Global impact through solutions Made in India." Mr. Pawan Parakh, CFO of Naapbooks Limited commented, "The company has been planning major expansion in the coming years with SME and Smart City solutions under Digital India. The management is looking to raise funds via various options like private placement, strategic tie-ups, and IPO (Initial Public Offer)."
About the company
Naapbooks Limited is a CMMI3 level and ISO 9001:2015 certified IT startup registered with Startup India vide DIPP4092. As an acclaimed IT company, it contributes in optimising and strengthening the businesses around the globe. It ensures the customers get a superior cognizance of their business and requirements. It has successfully delivered on the expectations of its clients by completing the projects like that of E-Auction, Cloud-based Accounting System, Aadhar based Payment Solution, E-Voting, Supply Chain, and Order Management System. Naapbooks continues to toil to stay ahead and keep updating the finesse and vividness of our offerings.
For Information Media Related Queries:
Name:  Swati Singh Email: media@naapbooks.com